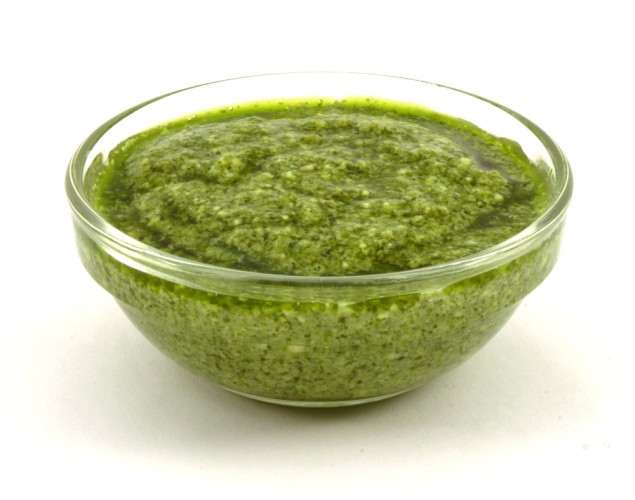 "Prep School" – Basic Essential Recipes To Know
There are some basic, essential recipes that every cook should master before the age of 30. Whether you are a college student living off campus, a new graduate moving into your own place, a newlywed, or even a newly divorced man who has never cooked before, you need to have an arsenal of great recipes that you feel comfortable making anytime. This way, if you invite someone over for dinner, you don't have to panic and call your mom.
These basic essential recipes are ones that you will whip up over and over again.  Eventually, you will memorize them and know them by heart.  From hearty chili to homemade salad dressing and homemade cheesy mac & cheese, each of these recipes can help you put a meal on the table quickly and efficiently.
You can start with these basic essential recipes and after you gain confidence in the kitchen, you can graduate to more complex dishes. Essential Chefs Catering offers fun, interactive cooking classes in their premiere commercial catering kitchen. Chefs John and Dan also offer custom culinary classes for you and your friends in the comfort of your own kitchen. Add a wine pairing element to your classes and really make a party out of it!  If you are interested in attending a class or would like a custom-designed class in your own home, please email us at essentialchefs@gmail.com, call us at 1-978-821-5108 or fill out a reservation form on our Contact & Reservations page.
1. Hot, Gooey Grilled Cheese:
The grilled cheese is the most popular sandwich for kids, teens, and the 20-something crowd. The quintessential grilled cheese sandwich is made with American cheese but we like to amp it up a bit by using Gouda and pancetta. We also like using sliced Muenster cheese and Chef John's preference is sharp cheddar (and crusty sourdough bread).  Try this basic essential recipe and then try different variations to decide which you like best: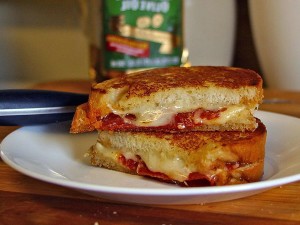 Ingredients:
salt and pepper
Hellman's mayonnaise
4 slices bread of choice (we like Ciabatta)
1 cup Gouda cheese, shredded
1/2 pound pancetta
Directions:
Spread mayonnaise on one side of four slices of bread.
Place two slices of bread mayonnaise side down on a hot griddle or frying pan.
Sprinkle a half cup of shredded Gouda cheese on each slice. Sprinkle a few pinches of salt and pepper over the cheese. Place the other two slices of bread over with the mayonnaise side facing up.
Fry on medium heat until lightly brown. Using spatula, carefully turn each sandwich over and fry again until lightly brown and the cheese is melted. Do not turn the heat up too high or the sandwich will burn, but do not turn heat down too low or the cheese will not melt.
As an alternative, we love adding pancetta to our sandwich. In order to ensure that the melted cheese will hold the sandwich together, place a ¼ cup of shredded cheese on each piece of bread, then layer with a few slices of pancetta and then ¼ cup more shredded cheese. Omit the salt and pepper. Top with the other slice of bread. Lightly press together.
Fry in pan as mentioned above.
2. Béchamel Sauce (White Sauce):
White sauce, also known as Béchamel, is used in a variety of dishes and is the base for many sauces. You can use this basic essential Béchamel recipe as a base for variations such as Alfredo sauce and Welsh rarebit. Here are the steps for a basic medium white sauce, with adjustments for other thicknesses.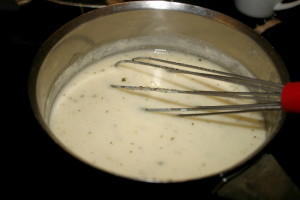 Ingredients:
2 tbsp butter
2 tbsp flour
1/4 tsp salt
1 cup half and half
Directions:
 In a small, heavy saucepan, melt 2 tablespoons of butter over low heat.
In a small, heavy saucepan, melt 2 tablespoons of butter over low heat.
Blend 2 tablespoons of flour into the melted butter.
Add 1/4 teaspoon of salt.
Cook over low heat, stirring, for 4 to 5 minutes. Cooking for this length of time will minimize 'flour' taste.
Slowly add 1 cup of half and half, whisking constantly.
Continue cooking slowly until smooth and thickened.
For thin white sauce, follow the instructions above, but use 1 tablespoon of butter and 1 tablespoon of flour. Thin white sauce is used in cream soups.
For thick white sauce, follow the instructions above, but use 3 tablespoons of butter and 3 tablespoons of flour. Thick white sauce is used in soufflés.
For heavy white sauce, follow the instructions above, but use 4 tablespoons of butter and 4 tablespoons of flour. Heavy white sauce is used as a binder for croquettes.
 Tips:
To make the standard Béchamel, after adding the half and half to the medium white sauce recipe add 1 small onion, a bay leaf, and a dash of nutmeg.
Light stock, cream, or a combination may be used in place of the half and half.
For more flavors, season with celery salt, nutmeg, a teaspoon of lemon juice, onion juice, or sherry, or a few tablespoons of chopped chives or parsley.
For a Welsh rarebit sauce, great on toast slices, add a cup of shredded cheddar cheese and 3 dashes of Worcestershire sauce. Whisk together until smooth.
For an Alfredo sauce, add a cup of grated parmesan cheese and a half clove of minced garlic. Add more half and half while whisking until you get a sauce that is a medium thick consistency.
3. Balsamic Vinaigrette:
Everyone should be able to whip up a salad dressing from scratch. A homemade dressing, seasoned to your taste, can turn ordinary greens into something extraordinary.  This basic essential recipe is one of our easiest. Here are directions on how to make an incredible balsamic vinaigrette: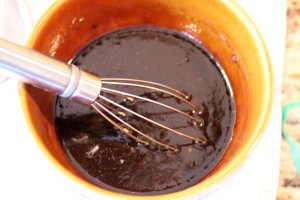 Ingredients:
2 tablespoons brown sugar
2 cloves garlic, minced
¼ cup balsamic vinegar
1 cup extra virgin olive oil
Salt and pepper to taste
Directions:
In a medium size metal mixing bowl, whisk together sugar, garlic and vinegar.
Whisk in the oil, a little at a time until the dressing emulsifies. The dressing should have a thick consistency.
Whisk in salt and pepper to taste.
4. Tomato Sauce:
Something you will never find in Chef Dan Martin's pantry is jarred tomato sauce.  Since it is so easy to make and so much healthier without all the preservatives and additives, why wouldn't you try this basic essential recipe for spaghetti sauce yourself?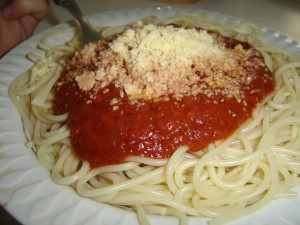 Ingredients:
salt and pepper to taste
1 pound ground beef
3 tablespoons olive oil
¾ cup chopped onions
2 cloves garlic, minced
16-ounce can tomato paste
1 teaspoon dried oregano
1 tablespoon dried basil
1 teaspoon dried red pepper flakes
1 ½ teaspoons kosher salt
1 bay leaf
(1) 28-ounce can crushed tomatoes, preferably Italian plum tomatoes
(1) 28-ounce can tomato puree
½ teaspoon sugar
2 tablespoons fresh parsley, roughly chopped
4 small or 2 large pickled pepperoncini
1 pound dried spaghetti for serving
grated Parmesan for serving
Directions:
Sprinkle salt and pepper all over beef.
Place large pot over medium-high heat; when hot, add olive oil and brown meat. Remove meat to a separate bowl.
Turn stove heat to medium, add onions, and cook 3 minutes, stirring. Add garlic, and cook 2 minutes longer.
Add tomato paste and stir: cook until it absorbs fat in pan.
Add oregano, basil, red pepper flakes, kosher salt and bay leaf, stirring to combine.
Add cans of tomatoes then 4 1/2 cups water.
Stir in sugar, parsley and pepperoncini.
Return meat to pot with its juices. Bring sauce to a gentle boil. Turn heat down to a simmer, partly cover and leave sauce to simmer 2-1/2 hours or more, stirring regularly.
Boil spaghetti according to package directions. Drain, return spaghetti to pan and add 3 cups sauce. Toss pasta in pan for a minute to coat with sauce, and place on a large platter. Pour 2 more cups sauce over pasta.
Serve with bowls of remaining sauce and Parmesan
5. Mashed Potatoes:
On the top of all "comfort foods" is the homemade mashed potato. Chefs John and Dan prefer mashed potatoes that are buttery, smooth and creamy with no lumps.
They prefer this basic essential recipe for mashed potatoes made with sour cream and butter – they are the best we have ever tasted.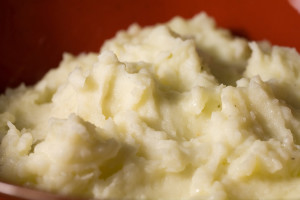 Ingredients:
3 pounds Yukon Gold potatoes, peeled
Kosher salt (to taste)
6 tablespoons butter
one cup sour cream
1/2 teaspoon freshly ground white pepper (more to taste)
Directions:
Cut the potatoes into 1-inch cubes and place them in a large pot. Cover the potatoes with cold water and add a tablespoon of salt to the water. Bring to a boil, and then lower the heat and simmer, uncovered, for about 10 to 12 minutes, until the potatoes are easily pierced with a knife.
As soon as the potatoes are tender, drain them in a colander.
Using a potato masher (we prefer an immersion blender), mash the potatoes until they are smooth.
Add the sour cream and butter to the potatoes and continue to mash until the potatoes become very creamy.
Add 2 teaspoons of salt and a half teaspoon of white pepper (or more to taste) and stir to combine.
Serve hot.
6. Macaroni and Cheese:
Few dishes are as personal as macaroni and cheese.  Everyone likes to make it a little differently than the next person – whether it is baked, custard-based, a little more white sauce, a little more cheese sauce, with or without toasted bread crumbs – there are thousands of recipes out there.  Unfortunately, none of them will satisfy everyone at the same time. The basic essential recipe that we are sharing is our favorite and is easy to make.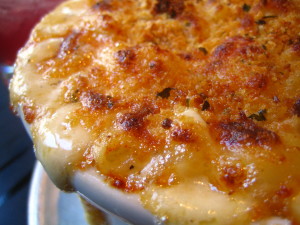 Ingredients:
Bread Crumb Topping:
6 slices white sandwich bread, torn into pieces
3 tablespoons cold butter, cut into pieces
Macaroni and Cheese:
1 pound elbow macaroni
5 tablespoons butter
6 tablespoons flour
1-1/2 teaspoons dry mustard
5 cups whole milk or half and half
8 ounces Monterey Jack cheese, shredded (about 2 cups)
8 ounces sharp cheddar cheese, shredded (about 2 cups)
Directions:
For the Bread Crumbs:
Pulse the bread and butter in a food processor until the crumbs are no larger than 1/8 inch, ten to fifteen 1 second pulses. Set aside.
For the Macaroni and Cheese:
Set the oven rack to the lower middle position and heat the broiler.
Bring 4 quarts of water to boil in a Dutch oven over high heat.
Add the pasta and 1 tablespoon of salt and stir to make sure the pasta does not stick together. Cook until the pasta is tender.  Drain in a colander and set aside.
In the now empty Dutch oven, heat the butter over medium-high heat until it foams but does not turn brown. Add the flour and mustard and whisk to combine. Continue whisking until the mixture deepens in color, about a minute.
Whisking constantly, gradually add the milk. Bring the mixture to a boil, whisking constantly (the mixture must boil in order to thicken) making sure the mixture does not stick to the bottom of the pot.
Reduce heat to medium and simmer, whisking occasionally until thickened, about 5 minutes.
Off the heat, whisk in the cheeses and 1 teaspoon salt until the cheeses are completely melted.
Add the pasta and cook over medium low heat, stirring constantly until the mixture is steaming and heated through, about 6 minutes.
Transfer the mixture to a broiler safe 13 x 9 inch baking dish (spray the dish with non-stick cooking spray first) and sprinkle evenly with the bread crumbs.
Broil until the crumbs are deep golden brown, about 3-5 minutes, rotating the pan if necessary for even browning.
Cool about 5 minutes, and then serve.
Note: When macaroni and cheese is refrigerated and reheated, it can become dry and crumbly. If you need to reheat it, pour a half cup or more of milk over the top and reheat. Lightly stir before serving.
7. "The Kitchen Sink" Chili:
Chili is another recipe that can be made thousands of different ways. Chili is a spicy stew containing chili peppers, tomatoes and beans.  Chili Con Carne means that it also contains beef (usually ground beef). A strictly Texan chili uses beef but excludes tomato, onion and beans and features a high proportion of meat to chilies. Other seasonings may include garlic and cumin. Chili is a great dish to be made ahead of time in a crock pot and is great for parties. Our favorite recipe is a little unconventional and contains everything but the kitchen sink.  We serve ours sprinkled with cheddar and with hot cornbread on the side.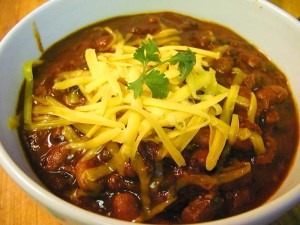 Ingredients:
1/4 cup extra virgin olive oil
1 pound yellow onions, coarsely chopped
1 pound sweet Italian sausage meat, removed from casings
4 pounds ground beef
1 tablespoon freshly ground black pepper
1 can (12 oz. each) tomato paste
1-1/2 tablespoons minced fresh garlic
1-1/2 ounces ground cumin seed
2 ounces plain chili powder
1/4 cup Dijon mustard
2 tablespoons salt
2 tablespoons dried basil
2 tablespoons oregano
3 pounds canned Italian plum tomatoes, drained (about 3 cans; each 2 pounds-3 ounces before draining)
1/4 cup red wine
1/8 cup lemon juice
1/4 cup chopped fresh dill
1/4 cup chopped Italian parsley
2 cans (16ounces each) dark red kidney beans, drained
2 cans (5-1/2 ounces each) pitted black olives, drained
Shredded cheddar cheese
Directions:
Heat olive oil in Dutch oven. Add onions and cook over low heat, covered, until tender and translucent, about 10 minutes.
Crumble the sausage and ground beef into the pot and cook over medium-high heat, stirring often, until the meats are well browned. Spoon as much excess fat off as possible.
Over low heat, stir in black pepper, tomato paste, garlic, cumin, chili powder, mustard, salt, basil, and oregano.
Add drained tomatoes, wine, lemon juice, dill, parsley and drained kidney beans. Stir well and simmer uncovered, about 15 minutes.
Taste and correct seasoning. Add olives; simmer for another 5 minutes to heat through.
Spoon chili into bowl and sprinkle with shredded cheddar. Serve with a square of cornbread on the side.
8. Basil Pesto:
Pesto is an incredibly flavorful, easy sauce that can really turn simple dishes like pasta or chicken into a five-star meal.  Here is a basic essential recipe for making pesto out of basil or any spicy greens such as arugula.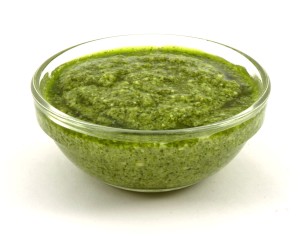 Ingredients:
2 cups packed fresh basil leaves
2 cloves fresh garlic
1/4 cup pine nuts or walnuts
2/3 cup extra-virgin olive oil, divided
Kosher salt and freshly ground black pepper, to taste
1/2 cup freshly grated Pecorino cheese
Directions:
If using fresh basil, pick all leaves off of plant, wash and spin dry in salad spinner.
Combine the basil, garlic, and pine nuts in a food processor and pulse until coarsely chopped.
Add 1/2 cup of the oil and process until fully incorporated and smooth. Season with salt and pepper.
If using immediately, add all the remaining oil and pulse until smooth. Transfer the pesto to a large serving bowl and mix in the cheese.
If freezing, transfer to an air-tight container and drizzle remaining oil over the top. Freeze for up to 3 months. Thaw and stir in cheese.
9. Guacamole:
Guacamole has become part of American cuisine as a dip, condiment, and as a salad ingredient.  No football game is complete without a big bowl of guacamole and tortilla chips. Try this easy basic essential recipe for the most delicious guacamole ever: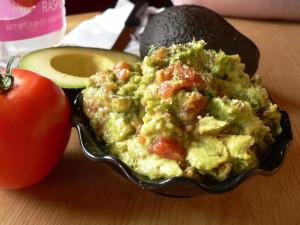 Ingredients:
3 ripe and soft Haas avocados, halved, seeded and peeled
1 lime, juiced
1/2 teaspoon kosher salt
1/2 teaspoon ground cumin
1/2 teaspoon cayenne pepper
1/2 medium red onion, diced
1/2 jalapeno pepper, seeded and minced
2 plum tomatoes, seeded and diced
1 tablespoon chopped cilantro
1 clove garlic, minced
Directions:
In a large bowl place the scooped avocado pulp and lime juice. Toss to coat.
Drain and reserve the lime juice after all of the avocados have been coated.
Using a potato masher, add the salt, cumin, and cayenne and mash.
Fold in the onions, jalapeno, tomatoes, cilantro, and garlic.
Add 1 tablespoon of the reserved lime juice.
Let sit at room temperature for 1 hour to allow the flavors to set up and then serve with your favorite toasted pita or tortilla chips.
10. Chicken Soup:
Childhood memories often feature mom or grandma preparing big pots of soup.  There is nothing like soup to make you feel warm and secure. For sheer nourishment, chicken soup wins out for best recipe to have memorized. All soups can be prepared ahead of time to be chilled and reheated for serving. Here's a basic essential recipe that does a very good job at showing you how to adapt your soup `for your own tastes.  Our recipe starts with a home-made chicken stock supplemented by store-bought stock.  This is probably the most difficult recipe in this series, but once you make it a couple of times, it becomes second nature.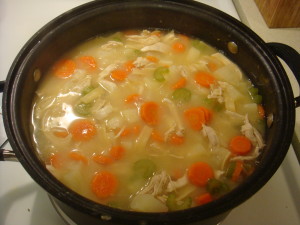 Ingredients:
Chicken Stock:
Whole chicken (kosher or premium), about 8 pounds, thoroughly washed and hacked into pieces with a meat cleaver
2 tablespoons olive oil
1 large Spanish onion, medium diced
4 teaspoons salt (we like kosher)
3 bay leaves
6 celery stalks – wash and cut off the ends and leaves and set aside the good pieces. You will use the ends in the stock.
6 carrots – wash and cut off the ends and set aside good pieces. You will use the ends in the stock.
Directions for Stock:
Heat the oil in a large Dutch oven. Add the onion; sauté until colored and softened slightly, about 2 to 3 minutes. Transfer the onion to a large bowl.
Add half the chicken pieces to the pot; sauté until no longer pink, about 4 to 5 minutes.
Transfer cooked chicken to the bowl with the onions. Sauté the remaining chicken pieces. Return the onion and chicken pieces to the pot. Reduce the heat to low, cover, and cook until the chicken releases its juices, about 20 minutes.
Add water to completely cover the chicken. Increase the heat to high and bring stock to a boil. Add salt and bay leaves. Return to a simmer, then cover and barely simmer until the stock is rich and flavorful, about 20 minutes.
Strain the stock into a container and discard the solids. Remove the chicken pieces to a platter to cool and refrigerate. Refrigerate the strained stock overnight. When cooled, the fat will collect on the top of the broth. Carefully spoon the collected fat off the top of the broth and discard. Reheat the broth on the stove and bring to a boil for about 3-5 minutes. Reduce heat and simmer.
Ingredients for Soup:
2 tablespoons olive oil
1 large sweet onion, medium chopped
6 celery stalks, chopped
6 carrots, peeled and chopped
8 ounces of white mushrooms, washed and sliced
One cup white wine
1 teaspoon dried thyme
1 teaspoon dried sage
¼ cup fresh parsley leaves
1 large can store bought chicken stock (about 50 ounces)
Half pound box of orzo
Kosher salt and ground black pepper to taste
Directions for Soup:
Heat the olive oil in another large Dutch oven over medium-high heat. Add the onion, carrots, and celery; sauté until softened, about 5 minutes.
Add the mushrooms and sauté until soft.
Add the thyme and sage.
Add the white wine and simmer on low heat.
Add the extra can of store-bought broth and the home-made chicken stock to the pot. Heat on medium-high.
Remove the skin from the chicken that you set aside. Remove all meat from the bones and discard any bones and scraps. Shred chicken into bit sized pieces.  Add to stock.
In the meantime, boil water in a medium sized pot and add a teaspoon of salt. Cook orzo until al dente, about 7 minutes.  Drain in a strainer.
Add drained orzo to the stock.
Stir in parsley.
Add salt and pepper to taste.
Serve while hot.