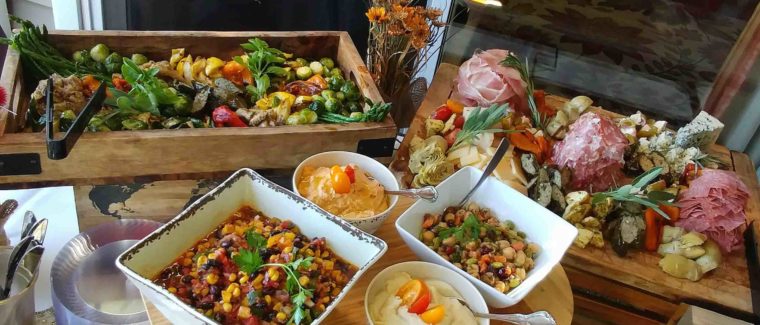 Chef-Attended Buffet Stations
Chef-Attended Buffet Stations:
The following menus are SAMPLE MENUS for inspiration. Our chefs will work with YOUR BUDGET and likes to CUSTOMIZE your menu especially for you. Please SCROLL down to see some of these sample menus.
If you like your guests to mingle, consider our elegant Chef-Attended Buffet Stations menu featuring carving boards with roasted meats; charcuterie; international cheese and fruit displays; Italian antipasto and middle eastern delicacies; seafood raw bar; custom pasta stations; grilled vegetables and crudite ~ all arranged around a glittering ice sculpture.
Our featured Chef-Attended Buffet Stations menu is simply a starting point – a sampling of some possibilities.
The sky is the limit when creating your special day and we encourage you to work with our chefs to
"transform your dream event into a delicious reality"
This Dish is Priced :
Request $00
This Dish is :

This Dish is :

Recipe
CHEF JOHN'S GREEN GODDESS DIPPING SAUCE:

INGREDIENTS :
3/4 cup packed fresh parsley leaves
1/3 cup mayonnaise (homemade if possible)
1/3 cup dairy sour cream
1 green onion, cut up
1 tablespoon vinegar
1 teaspoon anchovy paste or 1 anchovy fillet, cut up
1/4 teaspoon dried basil, crushed
1 clove minced garlic
1/8 teaspoon dried tarragon, crushed

DIRECTONS:
1. In a food processor bowl, combine parsley, mayonnaise, sour cream, onion, vinegar, anchovy, basil, garlic, and tarragon.
2. Cover and process until smooth.
3. Cover and store in the refrigerator up to two weeks.
4. Before serving, stir.
5. If you would like to use this as a salad dressing instead of a dip, before serving, stir in one or two tablespoons of milk to the desired consistency.
Enjoy!
Reviews for this dish
Sorry, no reviews found. Be the first to write a review.