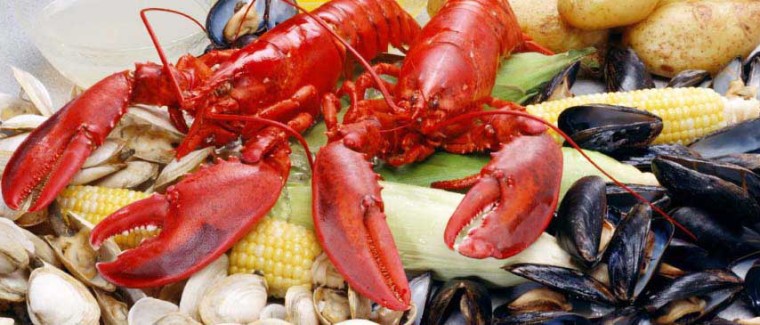 New England Clambake Menu
New England Clambake Menu:
The following menus are SAMPLE MENUS for inspiration. Our chefs will work with YOUR BUDGET and likes to CUSTOMIZE your menu especially for you. Please SCROLL down to see some of these sample menus.
Enjoy a traditional New England Clambake in your own backyard or on the beach featuring lobster, clams, mussels, shrimp, chowder, bisque, etc.
"As kids growing up in Connecticut, we remember the classic New England clambake. We recall the simple days without cell phones and the internet. Our best memories were getting together with family and friends at the beach and enjoying an authentic clam bake and BBQ. The dads would dig the pit, fill it with charcoal, line it with seaweed, and cook the most incredible clam bake you ever tasted! We remember sand castle contests, horse shoe games, sack races, and swimming during the day; and at night, there were the bonfires, s'mores, folk guitars, and singing…..just enjoying innocent and fun times as kids in the 1960's.
We would like to pass on this time-honored tradition to you. Corn-filled grins, butter-coated chins, and laughter. Let Essential Chefs Catering create that traditional New England clambake experience for you while you enjoy the best lobster and BBQ you have ever had!" -Chef John
Our featured New England Clambake menu is simply a starting point – a sampling of some possibilities.
The sky is the limit when creating your special day and we encourage you to work with our chefs to
"transform your dream event into a delicious reality"
~
Average Rating :





This Dish is Priced :
Request $00
This Dish is :

This Dish is :

Recipe
CHEF JOHN'S OYSTER STEW:

INGREDIENTS:
4 cups whole milk
1 cup cream (20% butterfat)
1/2 cup butter
2 pints Wellfleet oysters with liquor. (You can use canned oysters if you cannot get fresh).
2 teaspoons salt
two dashes of pepper

DIRECTIONS:
1. Heat milk and cream to scalding without burning.
2. Just before serving, melt butter in saucepan. Add oysters and oyster liquor.
3. Cook gently until oyster edges curl. Add to scalded milk and cream.
4. Season to taste with salt and pepper.
5. Serve immediately with oyster crackers.
Enjoy!
Reviews for this dish
Mary

December 24, 2014

Ratings :
The BEST clambake I have ever been to in Boston
This was hands down the best clambake I have ever been to. I grew up on Cape Cod and have been to several. But with those, you normally get the lobster, clams, corn, and potatoes - that's it. These guys brought every kind of food you could imagine and the smells wafted down the beach for a mile! Plus, they are really cute!